Stephanie Nivinskus on Becoming Absolutely Unforgettable in a Noisy World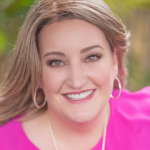 Stephanie Nivinskus is the CEO of SizzleForce Marketing, a Fractional CMO agency that services scaling companies. Since 1995 she's been developing brand-building marketing campaigns that have been used by companies including Starbucks, Quiksilver, The National Football League and Cox Communications along with thousands of privately- owned companies.
Stephanie has written for Forbes and Entrepreneur magazines and is the author of the international #1 best-seller, Absolutely Unforgettable: The Entrepreneur's Guide To Creating A Heart- Centered Brand And Standing Out In A Noisy World.
Known for her ability to humanize commerce and market products and services in an authentic & powerful way, she delights audiences with attention-grabbing stories and strategies that connect the dots between people and profit. Her raw, heart-centered approach to creating meaningful conversations gives scaling companies a big voice in the marketplace.
Stephanie speaks nationwide. When she's not helping brands showcase their sizzle, Stephanie is enjoying time with her husband and three teenagers in San Diego, CA.
Connect with Stephanie Nivinskus
= = = = =
The Team here at PYP has put together another uplifting, insightful, and inspiring show for you today. Our goal is to bring you timely, relevant, and useful conversations so that you can experience more success, energy, and life on your leadership journey.
= = = = =
My latest book, The Far Unlit Unknown — is available now! Grab your copy here
Here are three more ways I can help you:
Share this episode with one person who could use a boost of inspiration and positivity today.
Bring me in to speak at your next event.
Book a free call with me today to discuss that book you finally want to write this year.
Episode Summary
Stephanie's background.
0:02
The moment she knew she wanted to be a leader.
3:48
Bridging the gap between company and customer.
8:58
Consistency is key in marketing.
13:16
Choosing the right social media platform.
18:30
When are we going to reach a saturation point?
26:12
How to avoid plagiarism with ai.
30:36
Stephanie's thoughts on writing.
35:53
Know that everyone has a pain they want solved.
41:13
How to connect with Stephanie on social media.