Rob Barisoff Is the King of Consistency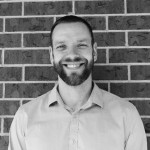 Listen to the episode (0:27:55)
Kick Off!
Rob Barisoff is co-founder of Bidsy.com and the host of Bidsy's Small Business Society podcast. Rob's journey through personal adversity fuels his fearless approach to seizing every opportunity, both personally and professionally. He lives in Saskatchewan, Canada, plays drums in a couple of bands and is dedicated to healthy living through fitness and nutrition.
Move the Chains
Rob shares a dark and compelling story about a personal tregedy two years ago that forced him to take a hard look at who he was and what he really wanted from life. "I was drinking and gambling way too much, and neglecting everything that matters if you want to live a fulfilled life," he recalls. "I didn't seek out what happened to me, but it was the wake up call I needed to get."
Touchdown!
"My biggest win came when I realized I am in control of my own destiny," Rob says. He left his 9-5 job and launched Bidsy.com which has seen positive growth since its launch. Rob shares, "Consistency is king. Routines make all the difference between success and standing still."
Interview Links
Check out Rob Barisoff at his website at Bidsy.com
Rob's gift to Team PYP is 20% instant savings at check out using promo code "PYP20" at check out. Thanks, Rob!
Follow Rob on Twitter @RobBarisoff
Send Rob Barisoff a message >>> rob at bidsy dot com
Like the show? Click the purple icon to subscribe in iTunes and leave me a review, which will help others find this inspirational content. Thank you for listening!