Rob Commodari on Why You Are Better than You Think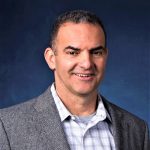 Rob Commodari helps people find the path to reach their fullest potential. He discovered his own path in 1990, when he realized that speech and communication are powerful tools that animate hearts and minds. Rob developed a personalized approach to communicating that teaches awareness so that listeners may find their purpose and set attainable goals.
A serial entrepreneur, Rob has been involved in several businesses. He had his own newspaper business from 1994 until 2004. Rob was partners in a cigar business in the mid 1990s. He flipped a few houses over the years and has spoke in front of several organizations, including Wells Fargo, Sherwin-Williams, Wachovia, M&T Bank, BB&T Bank, The Baltimore Sun, and others. Rob also speaks to school students and prison inmates. When Rob speaks, he is moved by the spirit to connect with others and inspire them to realize their dreams.
In Rob's first book, Better Than You Think, he shares his experiences and insights on awareness and how he has grown into the person he is today, and the person he wishes to become, which is an ever-changing goal. His goal is to inspire and impact everyone he meets to fulfill their God-given potential.
Connect with Rob Commodari
Recommended Books:
The Greatest Salesman in the World by Og Mandino
Never Split the Difference by Chris Voss
Books by John Gordon including The Energy Bus
= = = = =
The Team here at PYP has put together another uplifting, insightful, and inspiring show for you today. Our goal is to bring you timely, relevant, and useful conversations so that you can experience more success, energy, and life on your leadership journey.
= = = = =
My latest book, The Far Unlit Unknown — is available now! Grab your copy here
Here are three more ways I can help you:
Share this episode with one person who could use a boost of inspiration and positivity today.
Bring me in to speak at your next event.
Book a free call with me today to discuss that book you finally want to write this year.