Mark Podolsky on How You Can Become Dirt Rich, Too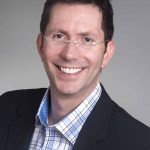 Listen to the episode (0:48:08)
Today's starting quarterback is returning guest, Mark Podolsky, author of Dirt Rich: How One Ambitiously Lazy Geek Created Passive Income in Real Estate Without Renters, Renovations, and Rehabs, owner of Frontier Properties and geekpay.io. Prior to his land investing success, Mark had a high-stress, soulless corporate job, and felt trapped in a state of solo-economic-dependency. Escaping solo-economic dependency changed Mark's life in so many positive ways that he decided to teach, coach, and mentor others to help them achieve their financial goals. Even though Mark invests a lot of his time helping others, he stays actively involved in running his land investing business and is dedicated to teaching the most current and relevant "real world" land investing methods to his students.
Mark Podolsky's  MVP player Stats:
Mark's brilliant and successful business model of buying and selling raw land has gained the interests in many ambitious followers to learn and follow this "sort of gateway drug to a better lifestyle" with passive income.
In this episode, Mark talks about the details of his book Dirt Rich and how the works of passive income drastically made an impact on his life. How his first ever one client (who made $350,000 on a one-time deal due to Mark's help) sparked the beginning of his digital course, which gained the attraction to more like-minded "geeks" wanting the same success. Not to mention, Mark shares this incredibly unique model of buying and re-selling raw-land estate and reveals some of his secrets that anyone could follow!
With his live investor tool kit events and boot camp program, Mark teaches his students how to offer true value, how to recognize the "Head of the Long Tail", how to find true fans and how to motivate the needle in their lives. He has a goal to help people see what's available and to figure out if that's what they really want to do.
Keep the conversation going by sharing this episode with your friends, colleagues, and social media!
Thanks so much for listening. 🙂
Click the cover to get Mark's book: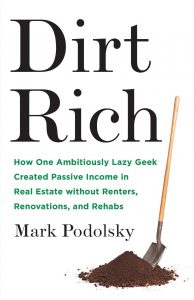 Quotes
"Work expands so as to fill the time available for its completion" – Parkinson's Law of Time
"As you earn more money, your needs increase and you end up spending more money" – Parkinson's Law of Money
"Can I rid the world of solo-economic dependency…if you're not personally working, you're not making any money."
"We can always make more money, but we can't get more time."
Everyone is going to run out of money, before they run out of deal flow…"
Mary: "Who is this system best for?" Mark: "I think it's best for anyone who needs to get paid!"
Seth Godin: "It's not for the masses, you want to find your minimum viable audience"
"You need to start small, but also think bigger…to make sure you have something that is viable."
LINKS
The Art of Passive income Podcast
Like the show? Click the purple icon to subscribe in iTunes and leave me a review, which will help others find this inspirational content. Thank you for listening!