Mark Brodinsky on Why You Matter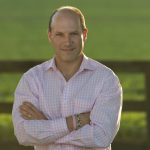 Mark Brodinsky is a writer, accomplished speaker, Emmy winner and a passionate believer in the power of your story. It is his mission to positively impact the lives of a billion people with his "You Matter" Movement. Mark worked many years in the TV industry as an Emmy-Award winning writer and producer. The creative process of working as a TV news producer helped him to think on his feet and to think about what change he can help to bring about in the world using his gifts and talents. He wants to see others reach for and achieve their dreams by focusing on and cultivating a foundation of good health, gratitude, appreciation and love.
In today's conversation, Mark takes us behind the scenes of his "You Matter" Movement with some powerful stories of sharing his message with strangers around the world.
Connect with Mark Brodinsky
Recommended Books & Resources
The War of Art by Steven Pressfield
How to Win Friends and Influence People by Dale Carnegie
The Magic by Rhonda Byrne
= = = = =
The Team here at PYP has put together another uplifting, insightful, and inspiring show for you today. Our goal is to bring you timely, relevant, and useful conversations so that you can experience more success, energy, and life on your leadership journey.
= = = = =
My latest book, The Far Unlit Unknown — is available now! Grab your copy here
Here are three more ways I can help you:
Share this episode with one person who could use a boost of inspiration and positivity today.
Bring me in to speak at your next event.
Book a free call with me today to discuss that book you finally want to write this year.
Episode Summary
Mark's leadership journey and impacting lives. (0:00)
Professional growth and leadership development. (4:54)
Work-life balance and job security. (10:50)
The power of acknowledging others' value and importance. (13:24)
Personal growth and making a difference. (17:46)
The power of appreciation and self-worth. (20:30)
Love, fame, and personal growth. (25:43)
The power of affirmations and self-love. (28:43)
Workplace culture and employee appreciation. (34:17)
Self-worth, social media, and personal growth. (37:20)
Leadership, self-improvement, and the importance of valuing others. (42:08)
Personal growth and leadership. (44:53)