Luis Scott on Why Leadership Has to Hurt Sometimes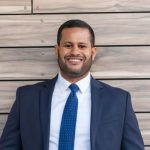 Answering the call to leadership comes with many benefits. Here on PYP, conversations often revolve around all the great results choosing leadership as a life path brings. But if we're being honest with ourselves, leadership hurts sometimes. Today's guest Luis Scott talks candidly about the painful side of leadership, while also shining a light on why there is no better option to pursue.
Luis Scott is a highly respected attorney, sought-after speaker and the owner of 8 Figure Firm Consulting and Bader Scott Injury Lawyers. Luis is known for his expertise in helping legal professionals optimize and grow their practices to 8 Figures in yearly predictable revenue and beyond.
With over 20 years of experience in the legal industry, including as the managing partner of a successful law firm, Luis has helped thousands of families navigate the legal system.
As the managing partner of Bader Scott Injury Lawyers, he is committed to making a positive impact on clients, their families and the community. He is passionate about sharing his knowledge of building multi 8 figure law firms and looks to help other lawyers streamline their operations to do the same.
Connect with Luis Scott
Get his book It Has to Hurt: Accepting Life's Harsh Reality, Finding Yourself along the Way, and Actually Enjoying the Journey
Recommended Books & Resources
The Four Agreements by Don Miguel Ruiz
The 21 Irrefutable Laws of Leadership by John Maxwell
= = = = =
The Team here at PYP has put together another uplifting, insightful, and inspiring show for you today. Our goal is to bring you timely, relevant, and useful conversations so that you can experience more success, energy, and life on your leadership journey.
= = = = =
My latest book, The Far Unlit Unknown — is available now! Grab your copy here
Here are three more ways I can help you:
Share this episode with one person who could use a boost of inspiration and positivity today.
Bring me in to speak at your next event.
Book a free call with me today to discuss that book you finally want to write this year.
Episode Summary
Excellence never goes out of business. (0:02)
Introduction to Luis Scott. (1:43)
What drew Luis to becoming a lawyer? (7:01)
Excellence never goes out of business. (10:12)
Leadership is a survival skill. (16:14)
The courageous decision to leave high school. (21:31)
Lead with love and show grace. (23:55)
How do you stay sharp as a leader? (29:21)
How do you pick the books you read? (34:45)
The problem with reading 52 books. (37:29)
Favorite leadership books. (43:43)