John Gumas on the 5 Step Process for Building Your Brand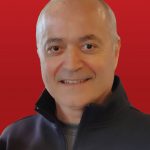 A veteran of the branding, advertising, and interactive marketing industry, John Gumas founded Gumas Advertising in 1984. Today, the award-winning firm is consistently named one of the top branding and interactive marketing firms by the California Business Times.
John is recognized as one of the country's foremost authorities on Challenger Brand Marketing®. He is the author of two books "Marketing Smart" and "Challenger Brand Marketing" which describe how challenger brands can effectively develop marketing strategies to take on their larger competitors. In addition, John has been an adjunct professor of branding, advertising, and interactive marketing, a sought-after speaker, and a regular columnist for several publications and blogs.
John currently sits on many boards, including the San Francisco Giants CF, The San Francisco Chamber of Commerce, The San Francisco State University Foundation, The Bay Area Sports Hall of Fame, and The Elios Society. John was recently inducted into the San Francisco State University Hall of Fame and was Alumnus of the Year. John has also been recognized for his extensive community service and leadership by the U.S. Senate and the San Francisco Giants.
Connect with John Gumas
Recommended Books & Resources
Christ Was an Ad Man by Robert Pritikin
Who Moved My Cheese? by Spencer Johnson
= = = = =
The Team here at PYP has put together another uplifting, insightful, and inspiring show for you today. Our goal is to bring you timely, relevant, and useful conversations so that you can experience more success, energy, and life on your leadership journey.
= = = = =
My latest book, The Far Unlit Unknown — is available now! Grab your copy here
Here are three more ways I can help you:
Share this episode with one person who could use a boost of inspiration and positivity today.
Bring me in to speak at your next event.
Book a free call with me today to discuss that book you finally want to write this year.
Episode Summary
Misconceptions about social media and video. (0:02)
How did John get into marketing? (1:47)
Marketing is not about marketing. Marketing is about building a business. (6:32)
What is the definition of a challenger brand? (12:26)
Philosophy on marketing to people who know you. (18:45)
The five-step process for building your brand. (24:04)
Finding out what your competitors are saying. (29:28)
How do you sell without selling? (34:55)
Marketing is a business. (39:21)
You know what we do matters. Why it matters. (45:19)
Where to find John's books? (50:02)