James Cluskey on Making the Leadership Transition from High Performance Sports to Business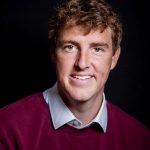 It's fitting to bring you James Cluskey on the show as the 2023 Wimbledon Championships are playing out right now in London.
James is a former professional tennis player turned entrepreneur and private tennis coach to Sir Richard Branson. He represented Ireland in the Davis Cup from 2006-2015 and won 15 professional titles, with a career-high ranking of 145 in the world. In 2018, James and three others broke the Guinness World Record for the longest doubles tennis match, playing continuously for over 60 hours.
Since retiring from professional tennis, James has carried passion for high performance and is the founder of Give Learn, an e-learning company that offers both LIVE and on-demand classes with global experts around soft skills. Give Learn links learning to social good and allows users to earn points to donate to different social causes.
James believes in connecting people to develop their life and career. He is a passionate advocate of human interaction, whether in person or remotely. James authored the book "Advantage: Lessons In Sport And Business To Achieve Your Goals."
Connect with James Cluskey
On LinkedIn
Recommended Books & Resources
The Monk Who Sold His Ferrari by Robin Sharma
Influence by Robert Cialdini
= = = = =
The Team here at PYP has put together another uplifting, insightful, and inspiring show for you today. Our goal is to bring you timely, relevant, and useful conversations so that you can experience more success, energy, and life on your leadership journey.
= = = = =
My latest book, The Far Unlit Unknown — is available now! Grab your copy here
Here are three more ways I can help you:
Share this episode with one person who could use a boost of inspiration and positivity today.
Bring me in to speak at your next event.
Book a free call with me today to discuss that book you finally want to write this year.
Episode Summary
Transition from sports to business. (5:49)
Putting yourself out of your comfort zone. (11:18)
Learning from the best in the world. (16:53)
Transition from tennis to executive coaching. (21:58)
How to navigate unfamiliar territory. (26:48)
Key takeaways from the courses. (31:48)
The importance of knowing what you're teaching. (36:34)
What's the number one concern for leaders of companies? (41:12)