Cindy Miller on Why It's Never too Late to Get Better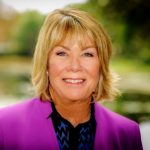 From a college walk-on to a veteran of five U.S. Women's Opens AND the LPGA Tour, Cindy Miller has made it her lifelong mission to relentlessly pursue her personal potential.
Her inspirational speeches, workshops, and signature executive retreats synthesize a lifetime of overcoming obstacles. With each new challenge, Cindy reinvented herself, unlocking opportunities in ways most people only dream of.
The 2010 National LPGA Teacher of the Year, one of Golf Digest Magazine's Top 50 Women Teachers in the U.S., and a Certified Behavior, Motivation, and Emotional Quotient Analyst -Cindy is uniquely qualified to equip you to unlock your potential and improve performance.
Cindy's suite of training delivers powerful and practical strategies to help individuals and teams make better decisions, overcome common frustrations, simplify complicated challenges, and reach their ultimate potential. Her passion mixed with humor and no-nonsense style is not only contagious but a breath of fresh air.
Cindy's message has reached thousands of employees at Fortune 500 companies and many others including, PepsiCo, Microsoft, Merck, Deloitte, KPMG, The Hartford, LPGA, Church Mutual Insurance, Independent Health, MetLife, Nabisco, Morgan Stanley and more.
Enjoy the show. 🙂
Thanks so much for listening. 🙂
LINKS & RESOURCES
Learn more about Cindy Miller on her website
Get more out of PYP with these links:
We always appreciate your rating and review on iTunes!
Like the show? Click the purple icon to subscribe in iTunes and leave me a review, which will help others find this inspirational content. Thank you for listening!