Chris Larsen on Creating Next-Level Income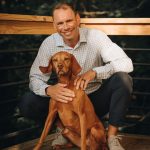 Chris Larsen is the founder and Principal of Next-Level Income. Since "retiring" after 18 years in the medical device industry, he dedicates his time to helping others become financially independent through education and investment opportunities.
Chris has been investing in and managing real estate for over 20 years. While completing his degree in Biomechanical Engineering and M.B.A. in Finance at Virginia Tech, he bought his first single-family rental at age 21. Chris expanded into development, private-lending, buying distressed debt as well as commercial office, and ultimately syndicating commercial properties. He began syndicating deals in 2016 and has been actively involved in over $1B of real estate acquisitions.
In addition to real estate, Chris owns multiple car wash locations across the Southeast. Chris lives with his wife and two boys (and Viszla, Lucy!) in Asheville, NC where he loves spending time with them in the outdoors and enjoying the food and culture that the region has to offer.
Connect with Chris Larsen
Recommended Books
Never Finished by David Goggins
= = = = =
The Team here at PYP has put together another uplifting, insightful, and inspiring show for you today. Our goal is to bring you timely, relevant, and useful conversations so that you can experience more success, energy, and life on your leadership journey.
= = = = =
My latest book, The Far Unlit Unknown — is available now! Grab your copy here
Here are three more ways I can help you:
Share this episode with one person who could use a boost of inspiration and positivity today.
Bring me in to speak at your next event.
Book a free call with me today to discuss that book you finally want to write this year.
Episode Summary
What does financial independence mean?
0:02
Who is Chris Larson?
2:17
Challenges Chris faced as an athlete.
7:01
Time is like money. It compounds.
10:34
What if you knew the rules?
16:19
What is passive income?
21:49
The strategy of buying value-add value-add businesses.
24:43
The business model of the business.
30:10
You need a three year vision.
35:10
The importance of having a clear vision.
38:33
The key ingredient to success is hardship.