Albert Williams on How the Circle of Value Can Transform Your Business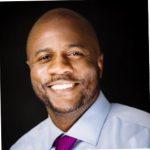 Listen to the episode (0:30:57)
At the end of our conversation, I asked Albert Williams who or what is he watching on Sunday. Who is his favorite team?
"Well, my daughter is a Girl Scout, so this Sunday is all about selling cookies!" he laughed.
I asked him which kind are his favorite.
Without hesitation he said, "Samoas."
I smiled. "Ya, it's hard to beat that coconut chocolate caramel goodness. But I have to say — I'm a Thin Mint girl."
And so it is, with today's PYP MVP Albert Williams. A million-dollar business owner, podcaster, father and Girl Scout cookie connoisseur. You will quickly discover how warm, genuine and authentic he is and I just know you will love today's conversation on PYP.
Albert's PYP Player Stats:
Born in Kingston, Jamaica to a single mother, Albert Williams grew up in the
birthplace of Hip Hop and the home of the NY Yankees – the Bronx. Motivated
by the countless hours his mother worked to create a better life for him and
his siblings, Albert grew up to hold several jobs in both the public and private
sectors while all at the same time owning and operating several of his own
businesses. His entrepreneurial spirit led him to explore many avenues
including landscaper/snow removal, restaurant menu designer and printer,
computer consultant, barbershop owner, part time owner in a laundromat and
part time owner in a hair salon.
In June 2012, Albert acquired Best Deal Private Car Service Inc., based in the
North East Bronx with 19 owner-operated cars in its fleet. As President and CEO,
he went on to certify the business as a Minority Business Enterprise, increased
the company's revenue to top $1.5 million, added hundreds of new drivers and
created a new revenue stream by adding non-emergency medical transportation
(NEMT) to their line of services.
Leadership skills and insights Albert shares on today's show:
Mentorship can be the key that unlocks your success forever
Investing in your own personal development should take top priority
in your life as an entrepreneur
Failure doesn't mean the game is over — it simply means you show up again to play the next day
Your past does not determine your future
Samoas really are the best Girl Scout cookie 🙂
This serial entrepreneur with a proven ability to grow a business now teaches
others through his Mastermind coaching. Albert considers it his responsibility
to give back, coaching minorities with entrepreneurial aspirations to realize
their dreams.
Albert also hosts the Plan Build Become podcast, interviewing inspiring thought
leaders to further help his own minority communities.
Click here to connect with Albert Williams on LinkedIn!
Like the show? Click the purple icon to subscribe in iTunes and leave me a review, which will help others find this inspirational content. Thank you for listening!