Dr. Ruth Gotian on the Four Elements of Success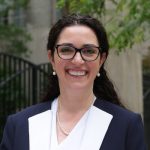 As we enter a new year, many of us are thinking about what success means moving forward. My conversation on today's episode with Dr. Ruth Gotian is sure to get you thinking about your own definition of success and what you will prioritize in the coming months.
Dr. Ruth Gotian is the Chief Learning Officer and Assistant Professor of Education in Anesthesiology and former Assistant Dean of Mentoring and Executive Director of the Mentoring Academy at Weill Cornell Medicine. She has been hailed by the journal Nature and Columbia University as an expert in mentoring and leadership development and is currently a contributor to Forbes and Psychology Today where she writes about 'optimizing success.'
She also has a weekly show and podcast by the same name where she gathers high achievers to talk about their journey to success. She was recently recognized as the #1 Emerging Management Thinker In The World with the Thinkers50 Radar Award, dubbed the Oscars of management thinking. She's talking to us today from New York City. Her new book The Success Factor is available, which you can get here.
Connect with Ruth Gotian on her website here
Dr. Ruth Gotian's recommended books:
The Long Game by Dorie Clark
A Funny Thing Happened on the Way to Stockholm by Robert J. Lefkowitz MD
Thanks for Supporting the Podcast!
The Team here at PYP has put together another uplifting, insightful, and inspiring show for you today. Our goal is to bring you timely, relevant, and useful conversations so that you can experience more success, energy, and LIFE as the leader of your business, career, side hustle, or passion.
If you haven't already been incredibly generous and awesome, now's your chance when you leave us a 5-star review!
Here are a few ways I can help you:

Share this episode with one person who could use a boost of inspiration and positivity today.
Grab your copy of my leadership playbook that teaches you the 11 skills you can quickly master to become an exceptional leader.
Buy one of my books on Amazon and leave me a 5-star review.
How's your writing these days? Is what you write and say more "ho-hum" than "oh ya!" Let's work on making your writing work better for you.  Book a free call with me today!