Rob Dial — "Walmart Pasta Saved My Life"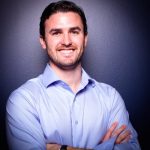 Listen to the episode (0:39:35)
Kick Off!
Rob Dial started his career in sales at 19, and in just two short years, he was promoted to run a franchise with the company. Rob would grow that franchise into a multi-million dollar business, breaking almost every record for a new office in the company's 60 year history by the time he was 23 years old. He has since moved on to the e-commerce world, offering coaching services alongside his podcast, MWF Motivation Podcast.
Rob is proud that the MWF Motivation Podcast has hit #1 in 6 categories on iTunes in their New & Noteworthy section, including self-help and business which are extremely competitive (and thus difficult) to get into. These days, Rob spends his time growing the podcast with the goal of hitting 1 million downloads per month so he can impact as many people as possible to find out what their purpose in life is and make it their mission to follow their purpose and live to their true potential.
Move the Chains
"At my lowest point, I ate 88 cent pasta and $1.88 sauce from Walmart for breakfast, lunch and dinner. It literally saved my life," says today's PYP MVP Rob Dial. Those days may be behind him, but Rob will never forget them. "Being an entrepreneur is like waking up and getting punched in the face every single day," he says. "You have to develop a CEO mindset and model your actions after the people you want to be like. And you can't be cocky. Cockiness will lead to your fall, just like it did for me."
A shy kid who was bullied a lot, Rob grew up in a city whose claim to fame is being the #1 city in America where kids overdose on pills. His dad died from alcoholism when Rob was a teenager, and life in general was hard. Rob believes these tough experiences gave him the drive to become a 7-figure business builder — twice — all before he turned 30.
Touchdown!
No stranger to hardship or hard work, Rob has reached a point in his life today where he recognizes that experiences are far more valuable than things.
"I've had the cars, the house, the stuff," he says. "I've had it all and lost it all. I like life better now. I'm in a good place."
Coming to that realization is always a touchdown in our book!
Interview Links
Connect with Rob Dial on his Facebook page here and feel free to email him at rob at mwfmotivation dot com
Discover the "Write" Way You Can Have More Success!
Like the show? Click the purple icon to subscribe in iTunes and leave me a review, which will help others find this inspirational content. Thank you for listening!