Rahul and Varun Aggarwal — "Good Design Can Solve Most Problems"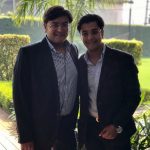 Listen to the episode (0:38:12)

In just 2 short hours...

...learn the skills that can make you an exceptional leader! I'll send you my leadership playbook directly to your inbox, right now!

Rahul and Varun Aggarwal are brothers who like to laugh. And they are passionate about great design. We talked over Skype — I was in Portland, Oregon and they were in India. It was morning for me and night for them. We had a great conversation about launching a business, moving through self-doubt to keep a vision alive and why customer service can be a company's greatest competitive advantage. In October 2014, brothers Rahul and Varun Aggarwal launched Designhill in an office in New Delhi, India. In the beginning, the co-founders had a small team of 4 developers and 2 designers to pioneer a new kind of marketplace for the design industry. Upon launch, Designhill quickly caught the attention of business owners around the world looking for a fast, reliable and quality alternative to the traditional design companies. The service received an overwhelming response from around the world, allowing the company to grow rapidly to a team of more than 45 with over 48,000 registered graphic designers from around the world. Designhill now has offices in New Delhi & Gurgaon, India and a subsidiary company and office in Delaware, United States. The company also plans to set up operations in Germany and UK this year. The Aggarwal brothers built Designhill to provide a reliable marketplace for sourcing high quality graphic designs including logo design, banner design, packaging design,merchandise design, web design and many other designing works at extremely affordable prices. Designhill provides an interactive interface that allows the customers to give real time feedback and ratings to design works, to help the designers better understand the customer's expectations. Rahul and Varun are entrepreneurs who scaled and grew a bootstrapped business to among the top 3 graphic design platforms in the world while helping thousands of businesses source quality designs. Leadership skills and insights Rahul and Varun shares on today's show:

Good design solves most problems
Great customer service can edge out competitors
Design is an integral part of business growth
Our parents can be great sources of inspiration
Even when things seem like they're really bad, they could be worse

Discover the "Write" Way to Be a Better Leader! Like the show? Click the purple icon to subscribe in iTunes and leave me a review, which will help others find this inspirational content. Thank you for listening!