Nigel Bennett on Risking It All for What Really Matters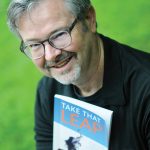 In an uncertain world, entrepreneurs like Nigel Bennett are our best hope for the future.
At a young age, Nigel was shocked to witness first-hand the real impact of oil spills on our natural world. After almost being shot down by FARC guerrillas on the Venezuela-Colombia border and being forced to escape Egypt while working for his father's oil spill contingency planning company, he decided to break away and start Aqua-Guard Spill Response. Aqua-Guard now provides equipment and services that protect water, the planet's most precious resource, in over 100 countries.
His extraordinary journey from dyslexic high school graduate to global entrepreneur, adventurer and philanthropist have much to teach us about responsibility, freedom and the bravery that surfaces in moments when everything is on the line.
In Nigel's book Take That Leap – Risking It All for What Really Matters, he recounts his unanticipated adventures as an entrepreneur, emerging philanthropist and always avid outdoorsman. Readers get a peek inside Nigel's head as he negotiates deals with the big boys and wrestles with the myths surrounding work/life balance and being an entrepreneur.
He takes readers along the crazy challenges of simultaneously launching a startup and a family all the way through to the even zanier challenges of becoming a steward of Pachamama (Mother Nature). He shares how he tested his limits in extreme outdoor adventures, built homes for the homeless with his wife and children, and discovered his big "Why?" with the indigenous people of the Amazon.
If your appetite for adventure isn't whetted after listening to today's conversation with Nigel Bennett, I'm not sure what could!
Enjoy the show. 🙂
Thanks so much for listening. 🙂
LINKS & RESOURCES
Get more out of PYP with these links:
We always appreciate your rating and review on iTunes!
Like the show? Click the purple icon to subscribe in iTunes and leave me a review, which will help others find this inspirational content. Thank you for listening!