Liletta Harlem on How to Use Your Voice for Leadership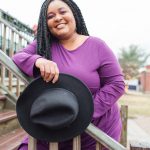 Liletta Harlem is an Author, Event Coordinator, Motivational Speaker, Women's Group Facilitator for Domestic Violence, Television Producer /Host, and CEO and Founder of her own companies entitled Big Sis & Company, and Keep The Box, LLC. Liletta has received training in Crisis Counseling, Group Counseling, Psychology, and Domestic Violence counseling. She currently is the Host of a YouTube series entitled, Pivotal Moments with Liletta.
In today's episode, Liletta opens up about her own journey out of a violent relationship to living her life fully expressed. She also shares ways we can use our voices for positive change, starting with ourselves. Her energy and enthusiasm will get you excited about what's possible for you!
Links and Resources
Learn more about Liletta Harlem on her website
Check out Liletta's YouTube channel
Elevate Your Expertise
***FALL REGISTRATION IS NOW OPEN***
Learn why sharing what you know with a bigger audience can be one of the best decisions you'll ever make … even if you have no idea where to start! Find out more about this exciting program today!
Thanks for Supporting the Podcast!
The Team here at PYP has put together another uplifting, insightful, and inspiring show for you today. Our goal is to bring you timely, relevant, and useful conversations so that you can experience more success, energy, and LIFE as the leader of your business, career, side hustle, or passion.
If you haven't already been incredibly generous and awesome, now's your chance when you leave us a review and make sure to subscribe to the show wherever you listen to podcasts!
Here are a few ways I can help you: