Josh Fonger on Making More While Working Less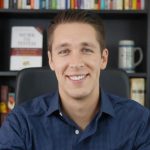 Josh Fonger is a consultant, coach, and speaker who is recognized as the leading authority in Business Performance Architecture. With his unique ability to develop and implement systematic solutions to complex business problems, Josh has personally consulted or coached over 600 business owners from more than 100 industries, from small startup businesses to large $500M enterprises. Due to his phenomenal success rate, and a mountain of client testimonials, he has quickly become one of the most in-demand small business consultants in North America.
In 2011, Josh connected with Sam Carpenter after reading Sam's book Work the System: The Simple Mechanics of Making More and Working Less. Recognizing their shared vision of helping business owners get unstuck using systematic solutions, Josh and Sam partnered to co-manage consulting firm Work the System, which has now attracted over 100,000 business owners from over 50 countries.
One of Josh's greatest strengths is helping businesses properly organize and
systematize their operations so they can achieve exponential growth. Using the Work the System methodology, Josh has inspired hundreds of success stories among small business owners around the world. Many of Josh's clients acknowledge that his ideas and coaching have increased their profits by millions of dollars.
Josh graduated from the University of Michigan with a bachelor's in architecture before getting his MBA from Arizona State University. When he's not coaching or consulting to business owners, Josh enjoys setting up "personal systems" to maximize his time with his wife and three boys.
Keep the conversation going and share this episode with someone who could use a dose of inspiration today.
Thanks so much for listening. 🙂
LINKS & RESOURCES
Grab your free copy of Work the System here!
Learn more about and connect with Josh here.
Get more out of PYP with these links:
We always appreciate your rating and review on iTunes!
Like the show? Click the purple icon to subscribe in iTunes and leave me a review, which will help others find this inspirational content. Thank you for listening!