Elizabeth Borelli on How to Breathe Your Way to Success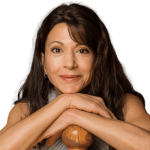 Can breathing really make a difference in how successful you are as a leader? Today's guest says one hundred percent it can — and she can prove it.
Elizabeth Borelli combines her years of experience in ICF-accredited executive and leadership coaching, and RYT® 200 training into a unique mind-body approach to personal growth and professional development.
She combines proven stress reduction practices with coaching tools for developing the confidence, focus, and resilience you need to break through the thought traps of not-enoughness. The use of basic attention and energy management practices lets clients see beyond their limiting beliefs and into new opportunities for more meaning, positivity, and a greater life purpose.
Elizabeth supplements her coaching programs with ongoing support using tools proven to help you to gain focus and clarity, connect with your source of strength, quiet the voices of self-doubt, take action, and stay accountable. Her work centers around mind-body practices proven to support lasting change.
When she's not working with top-notch clients, Elizabeth enjoys hiking in the great outdoors in the gorgeous Pacific Northwest, where she lives and plays with her two teenage girls. She stays passionate about her work by maintaining a dedicated breathwork practice.
Enjoy! 🙂
Get a copy of Elizabeth's book Breathe into Breakthrough
Learn more about Elizabeth on her website
Books Elizabeth recommends:
Radical Responsibility
Emotional Intelligence
Thanks for Supporting the Podcast!
The Team here at PYP has put together another uplifting, insightful, and inspiring show for you today. Our goal is to bring you timely, relevant, and useful conversations so that you can experience more success, energy, and LIFE as the leader of your business, career, side hustle, or passion.
If you haven't already been incredibly generous and awesome, now's your chance when you leave us a 5-star review!
Here are a few ways I can help you:

Share this episode with one person who could use a boost of inspiration and positivity today.
Grab your copy of my leadership playbook that teaches you the 11 skills you can quickly master to become an exceptional leader.
Buy one of my books on Amazon and leave me a 5-star review.
How's your writing these days? Is what you write and say more "ho-hum" than "oh ya!" Let's work on making your writing work better for you.  Book a free call with me today!