David Taylor on How to Optimize Your Mind & Body for Peak Performance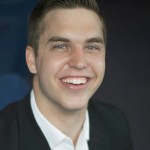 Listen to the episode (0:26:24)
Kick Off!
How can you play your position at peak performance and give it what it really needs every day? Listen in as the Founder of Mobius Nutrition, David Taylor, shares insights about optimizing your nutrition profile for excellence throughout your day.
David Taylor is the twenty-five year old founder and president of Mobius Nutrition. He grew up in Dallas Texas and attended Missouri University of Science and Technology where he earned a B.S. in Chemical Engineering. He found a passion for health and fitness while in school and began leading workouts with his fellow students. A detour during college into eating mostly junk food was enough to show David how important proper nutrition is to enjoying a fantastic and productive life.
After graduating, David worked as a consulting engineer in the food and beverage industry where he saw first-hand how modern processed food is made. He soon realized that his true passion lies in helping people maintain a healthy and optimal lifestyle. With a college friend and David's wife Megan, David founded Mobius Nutrition to help people improve their mind and their body. His company is already changing lives and is set up for great success for years to come.
Move the Chains
To raise capital for his start up, David and his business partners launched a crowdfunding campaign with high hopes. It failed miserably. When asked about why his plan didn't pan out, David was quick to say:
"We didn't prepare. We didn't do the training. We didn't read the books or listen to the podcast. The experience showed us we can't just hope for the best."
The next time he approached crowdfunding, David did things differently. He read the books. Studied the plays. The result?
"We hit our goal of $30K — plus some!"
Touchdown!
David Taylor got his game winning touchdown when the phone call he made to the right person kicked off manufacturing their first product. Without that authority, manufacturing would have been stalled and Mobius Nutrition might never have taken off.
David's willingness to be uncomfortable and do what needed to be done shows why he's a great business leader. Sometimes you just have to push things through even if it's hard or awkward!
Interview Links
Connect with David Taylor on Twitter and Instagram @mobiusnutrition
Take advantage of David's generous gift at his website Mobius Nutrition and use coupon code "PYP" (without quotation marks) at checkout and save 25% on your first two month subscription
Got questions for David? Email him >>> david at mobiusnutrition dot com
Like the show? Click the purple icon to subscribe in iTunes and leave me a review, which will help others find this inspirational content. Thank you for listening!