Chris Tuff on What the World's Largest and Most Misunderstood Generation Really Wants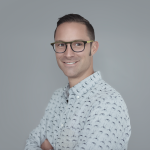 What do Millennials really want? Answering that question is central to the work today's guest does. He even wrote a best selling book about what he's learned. Chris Tuff calls himself "the Millennial Whisperer" and for good reason: because he listens — and listens hard — to Millennials.
About Chris Tuff
A graduate of Vanderbilt, Chris is an accomplished digital marketer, investor, business development leader, youngest partner in the history of a 100-year-old advertising agency, bestselling author, public speaker, husband, father of two, and advocate of empathy and connection.
When Chris isn't finding creative ways to inspire and lead, you will find him spending time with his family, on a run or kiteboarding.
Chris believes:
Millennials are not the problem in business. They just have exposed the problems in business. When leaders understand what truly motivates Millennials, they quickly realize Generation Y can possibly be the most productive generation ever. It is up to us to help them get there.
Links & Resources
What kind of leader are you? Click here to take the quiz Chris mentioned on today's show.
Want to grab the book now? Get it here.
Thanks for listening!
The Team here at PYP has put together another uplifting, insightful, and inspiring show for you today. Our goal is to bring you timely, relevant, and useful conversations so that you can experience more success, energy, and LIFE as the leader of your business, career, side hustle, or passion.
If you haven't already been incredibly generous and awesome, now's your chance when you leave us a review and make sure to subscribe to the show wherever you listen to podcasts!
Here are a few ways I can help you: