Mary Ann Pruitt on Using an Omnichannel Approach for Your Marketing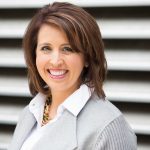 Mary Ann Pruitt is the CEO and President at Mosaic Media, a collection of media buying experts and creative strategists who negotiate, purchase, and monitor advertising space and airtime. Mary Ann started her career in media by working as a senior sales executive for some of the nation's largest media outlets. After discovering her talent and love for all things media strategy, she founded Mosaic as a way to provide niche expert experience to agencies and marketing departments across the country.
Her hard work and savvy strategy skills have led Mosaic to year-over- year growth, and has expanded her impact as an industry leader in all things traditional, digital, and everything in between. Reflecting this is a 2020 award from Cynopsis Media naming her as a Top Woman in Media.
Mary Ann has helped develop effective marketing strategies for agencies of all sizes, small businesses, service businesses, private educational institutions and legal and professional services businesses along with many others. She is passionate about passing on the experience that she has gained onto eager professionals looking for actionable marketing tips.
Enjoy! 🙂
Find Mary Ann Pruitt on Twitter
Connect with Mary Ann Pruitt on LinkedIn
Visit Mary Ann's website
Thanks for Supporting the Play Your Position Podcast!
The Team here at PYP has put together another uplifting, insightful, and inspiring show for you today. Our goal is to bring you timely, relevant, and useful conversations so that you can experience more success, energy, and LIFE as the leader of your business, career, side hustle, or passion.
If you haven't already been incredibly generous and awesome, now's your chance when you leave us a 5-star review!
Here are a few ways I can help you:

Share this episode with one person who could use a boost of inspiration and positivity today.
Grab your copy of my leadership playbook that teaches you the 11 skills you can quickly master to become an exceptional leader.
Buy one of my books on Amazon and leave me a 5-star review.
How's your writing these days? Is what you write and say more "ho-hum" than "oh ya!" Let's work on making your writing work better for you.  Book a free call with me today!