John Ovrom on Designing a Successful Business Exit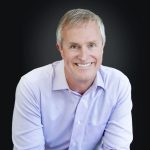 John Ovrom is the President and Founder of Exit Consulting Group, Inc. (ECG). He founded the company on a simple principle – the desire to help fellow entrepreneurs. What started as John helping friends and previous business connections, quickly evolved into a consulting business, and the creation of The Ovrom Group, that became the Exit Consulting Group, Inc. in 2009. John has an entrepreneurial spirit, and is constantly coming up with new, inspiring, creative, and innovative ideas.
A serial entrepreneur, John founded his first company OSSO Construction, Inc. in 1991, and ran the custom home remodeling company, along with several additional construction-based companies, for 14 years with his dad and cousin. After going through the process of selling his company, he realized the need for a service provider who can step into the business, develop a strategic exit plan, and manage the transition.
John is truly passionate about helping people and solving problems. His fearless persistence, openness, honesty, and intelligence make him an immense asset to his clients. He approaches problems by starting with the solution and working backwards. Always searching for the "win", he asks the same question of clients and staff alike: "How can we use your strengths to best solve this problem?"
Besides his entrepreneurial work, John supports the Rotary Club International, serving his Coronado club in varying capacities, including President, and he served as past president of the Coronado Chamber of Commerce. One of John's greatest joys was coaching his sons' sports teams while they were growing up, including basketball, soccer, and baseball.
John's favorite activities include fishing, lobster diving, hiking, travel, hanging out with his family, and spending as much time as possible playing in Baja, Mexico.
John's WIN is creating long-lasting value for his clients by finding unique, effective solutions to business challenges.
Connect with John Ovrom
Recommended Books
= = = = =
The Team here at PYP has put together another uplifting, insightful, and inspiring show for you today. Our goal is to bring you timely, relevant, and useful conversations so that you can experience more success, energy, and life on your leadership journey.
= = = = =
My latest book, The Far Unlit Unknown — is available now! Grab your copy here
Here are three more ways I can help you:
Share this episode with one person who could use a boost of inspiration and positivity today.
Bring me in to speak at your next event.
Book a free call with me today to discuss that book you finally want to write this year.
Episode Summary
Leadership is lonely.
0:02
John's story of getting the call to leadership.
6:48
What does it mean to sell your company?
10:12
The difference between a transaction and a transition.
16:35
What are the exit options for business owners?
20:19
Finding out what you want more of.
27:02
The difference between a lifestyle business and a business.
35:36
Transitioning into the next generation.
41:39
The process of exiting his company.
44:57
What is a CEO?
51:27
Where to learn more about John and his company?
53:40
How can we teach each other how to communicate with others?