John Fairclough on the Freedom of Being Yourself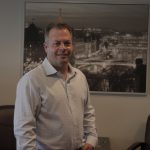 Listen to the episode (0:38:33)
John Fairclough likes being himself and you will like him for it. He firmly believes that being the best of who you are is a competitive advantage in business and life. His story of overcoming a childhood marked by poverty is inspiring, and you will love how direct and honest John is about what building a multi-million dollar business takes (hint: it's not as hard as many people make it out to be).
Here are John's MVP Player Stats:
John Fairclough (FAIR-clow) founded The Resicom Group to help retailers
optimize the way they improve and maintain their store environment. Under his
leadership, the company has evolved from a local construction company into an
international provider of facility maintenance and construction services.
Naturally curious, John spends his time developing better questions to find the
"uncommon sense" of a situation. By improving his questions, he's been able
to create better answers to the challenge of developing people, evolving their
processes, and protecting the value delivered. John's specialties include listening without prejudice, activating ideas, and mentoring without bias. He's on a mission to help businesses protect their brands at all touch points throughout their physical facilities.
Keep the conversation going by sharing this episode with your friends, colleagues, and on social media!
Thanks so much for listening. 🙂
Free Offer for Team PYP
Grab the generous offer from John Fairclough exclusively for Team PYP here.
Like the show? Click the purple icon to subscribe in iTunes and leave me a review, which will help others find this inspirational content. Thank you for listening!