Dr. Nancy Gordon on Leading System Change & Transformation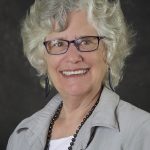 Dr. Nancy Gordon believes that higher education is a force for life long learning, change, and helping us improve who we are and where we're going. It's also a way of thinking about continuing education. She loves books, big ideas, teaching, and conversation as a means of making forward progress. In this episode of the Play Your Position Podcast, she dives deep into what's going on in higher ed today from the shift to online courses to the rise of people returning to school later in life because they want to get better.
BIO
Dr. Nancy Gordon is Chairperson of the Department of Counseling, Leadership, and Expressive Arts at Salve Regina University. She received her Doctor of Education degree from Harvard University and has been a member of the Salve Regina faculty since 1993. Now an Associate Professor, she was granted tenure in 2015.
Dr. Gordon is also the graduate program director for the Holistic programs, with oversight of five master's programs, five Certificate of Advanced Graduate Studies (post-master's) programs and five Certificate of Graduate Studies programs. In addition to course development, she teaches in the program. Her current graduate courses include "Leading Holistically," "Creative Leadership Intervention Skills," and "Leading System Change and Transformation."
Her most recent published work is Gordon, N. (2013). Women and Leadership: An Integrative Focus on Equality. Journal of Interdisciplinary Feminist Thought (Vol.7, I). Up until 2015, Dr. Gordon was also co-proprietor of a consulting firm that assisted private, non-profit, and public organizations with strategic thinking and planning, leadership development, change, and transition planning, diversity and cross-cultural awareness, and skill development for a high-performance workplace. She has also designed and delivered professional workshops on topics from leadership to strategic vision and handling stress.
Keep the conversation going and share this episode with someone who could use a dose of inspiration today.
Thanks so much for listening. 🙂
LINKS & RESOURCES
Get more out of PYP with these links:
We always appreciate your rating and review on iTunes!
Like the show? Click the purple icon to subscribe in iTunes and leave me a review, which will help others find this inspirational content. Thank you for listening!