David Quick Cuts through the Bull so Leaders Can Build a Compelling Vision and Thrive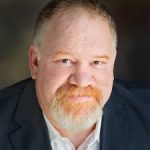 Listen to the episode (0:35:45)
"If one of us is not like the other, then we have to take action."
If you are at all familiar with Sesame Street, this reference by today's MVP David Quick to the iconic children's show will hit home.
David Quick is referring to how leaders can create a magnetic and compelling vision for their company so that more people will be attracted to what they are doing.
You will learn quickly just like I did that David is no bull.
"I use the analogy all the time, I need to be compelled to go to work every day and if and when I start to be repelled, it's telling me something. I need to sort through that. I urge leaders to think about this magnet that compels and repels. How are you building something that compels the right people to come to your organization every day? Do you have a compelling vision and core values in place?"
Father of four amazing sons, married to an incredible woman, long history of coaching, and all around great guy, Dave Quick loves helping others thrive. He's getting ready to launch a new business with his wife that will help like minded couples who work together in business do well in both their personal and professional lives.
PYP Player Stats:
David Quick is the go-to speaker, executive coach, and Vistage Chair expert helping business owners and CEOs learn how to work fewer hours, be significantly more successful, and build stronger professional relationships. David is a true "recovering Bull," having worked over 20 years with companies like Bayer, Johnson & Johnson, and Roche Diagnostics. As the owner of Helping Bulls Thrive in China Shops, David has impacted over 300 CEOs nationwide, been featured on TEDx, and is a regular presenter at Vistage meetings.
David Quick is a "recovering bull in the china shop" who now uses his passion to help business leaders and their teams thrive by sharpening their focus on Vision, Values, Expectations, Engagement.
David puts executive coaching, live events, keynote presentations and group sessions all to work to help create powerful herds of high performing bulls. His no-BS communication style speaks to high performing leaders of all levels.
Leadership skills and insights Dave shares on today's show:
The best leaders — from Fortune 500 executives to solopreneurs — seek coaching and masterminds
You have the HERD you deserve!
Great companies are no accident — they actively create a culture that attracts great talent
Assessments can make a huge difference at so many levels in your company, yet are underutilized — explore what's out there and then commit to using one
When you are clear about what matters most to you, life and work become harmonious and rewarding
Click here to take advantage of David Quick's generous offer mentioned on today's show!
Like the show? Click the purple icon to subscribe in iTunes and leave me a review, which will help others find this inspirational content. Thank you for listening!