Bill Gammon on Doing the Next Right Thing — Especially When It's Challenging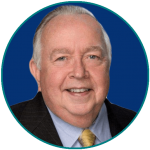 Bill Gammon is an accomplished senior executive, advisor, thought leader, author, and mentor coach with more than 50 years of success across the airline, securities, and insurance industries.
Bill has held a leadership position as a financial advisor and Vice President for Ameriprise Financial Services Inc. He also founded Gammon and Associates where he assisted clients formulating clear goals and plans with processes and pathways to achieve and surpass them.
For his exceptional leadership, he has been recognized for the Ameriprise Circle of Success Award from 2012 to 2015. Prior to that, he was a top award-winning performer at three former Broker-Dealers. William obtained his Bachelor of Business Administration in Marketing and Finance from the University of Iowa, Henry B. Tippie College of Business.
As a sales executive, financial advisor, business founder/owner, and coach, Bill Gammon has assisted many other highly successful executives, financial advisors, and small business owners to co-create, implement, achieve, and surpass goals they previously found challenging.
Recommendations from Today's Show:
Eat That Frog by Brian Tracy
Connect with Bill on his website
Thanks for Supporting the Play Your Position Podcast!
The Team here at PYP has put together another uplifting, insightful, and inspiring show for you today. Our goal is to bring you timely, relevant, and useful conversations so that you can experience more success, energy, and LIFE as the leader of your business, career, side hustle, or passion.
If you haven't already been incredibly generous and awesome, now's your chance when you leave us a 5-star review!
Here are a few ways I can help you:

Share this episode with one person who could use a boost of inspiration and positivity today.
Grab your copy of my leadership playbook that teaches you the 11 skills you can quickly master to become an exceptional leader.
Buy one of my books on Amazon and leave me a 5-star review.
How's your writing these days? Is what you write and say more "ho-hum" than "oh ya!" Let's work on making your writing work better for you.  Book a free call with me today!